Introduction
Thames Water is a diverse operation with an extreme variation of hazards across its business. Thames Water has a duty to ensure that all employees and contractors are aware of and understand these hazards.
The Thames Water Passport scheme is a means of confirming that everyone working for or on behalf of Thames Water has been provided with consistent information on risk and understands the importance of working safely.
What is a Thames Water Passport?
The Thames Water Passport ensures that everyone has undergone the same level of training on hazards, risks and expected behaviours. It is also a way to ensure that people have medical clearance, if required, before commencing work.
This standard is for all employees and contractors. The employing company is responsible for ensuring that this standard is fully complied with.
Personnel who do not have a Thames Water passport, will not be allowed to start work on site.
Why get a Thames Water Passport?
The Thames Water passport helps us ensure that anyone working with us has been provided with relevant and consistent training to understand our high-risk activities and expectations. It also ensures that everyone is aware of how their behaviours impact on themselves, colleagues, the business, the environment and our customers.
Site specific information will be provided by the employer/contractor/supplier as part of the company and site induction process.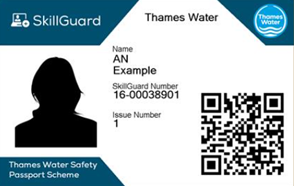 How to book
The only way to get a passport card is to attend the Thames Water Passport course. You can book via the SAP booking system if you are a Thames Water employee.
Contractors must contact the Thames Water Learning and Development Team for more information on bookings and delivery options.
Bookings will only be accepted by main contractors who are responsible for ensuring the competence of sub-contractors. No bookings will be accepted from sub-contractors or agencies.
Find out more
You can find out more by reading Essential Standard 9, which outlines the Thames Water safety passport requirements.

Essential Standard 9